My husband teaches at a school that actually has quite a few male teachers. Every now and then, they have a "guy fire" in our back yard to relax at the end of the week, and I take it as a time to use them as my taste testers. Typically, the munchies I make include jalapeños because the hubz loves anything spicy (and rarely does he actually think things are hot...he's a little crazy in the taste buds). I'd seen pictures of bacon wrapped jalapeños floating around Pinterest and decided to throw my own version together. I'm a fan of contrast. In art, fashion, and food. I like hot food with a cold sauce, sweet with savoury, and while I'm a wuss with heat, LOVE sweet & spicy. It's a party in your mouth. And what meat-eater doesn't love bacon?
I always suggest using homegrown or as natural/organic as possible ingredients. So if you can, start with organic jalapeños. Cut in half lengthwise and gut the suckers. I
highly
recommend wearing gloves, especially if you have a baby that may need you at any given moment. Or if you have a hang nail. Ouch.
Mix 1/4C of cheddar cheese with 8oz of cream cheese (softened). I threw in some celery seed here, but if you don't have onion/garlic issues like we do, feel free to add some garlic powder here.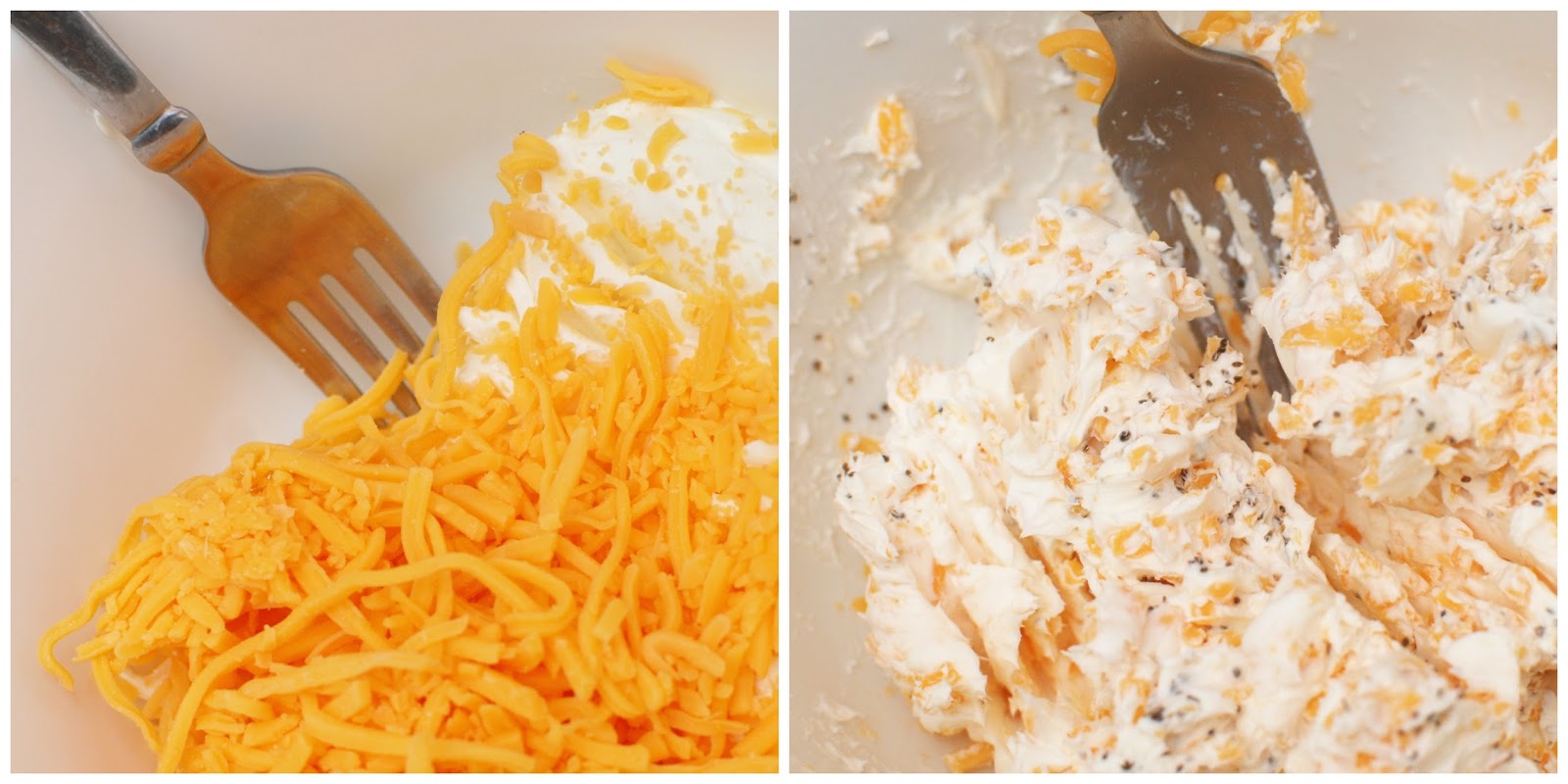 Then, using a spoon, stuff the jalapeño slices. You don't want it spilling over, but feel free to stuff them to the top!
Then, wrap with nitrate/nitrite free bacon. You may cut the bacon in half, or use whole pieces. Half a slice of bacon fits nicely around one average sized jalapeño, but more bacon never hurt.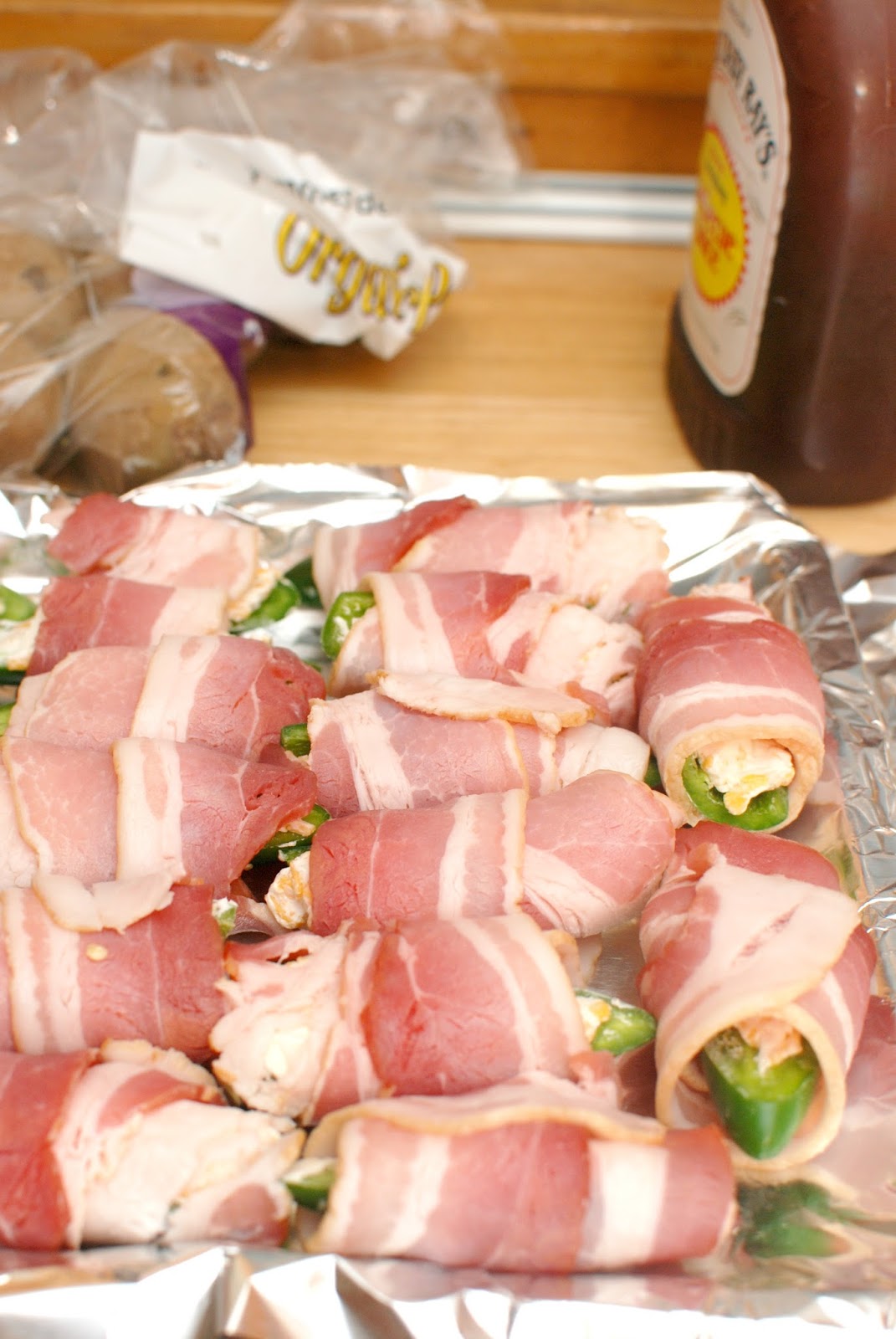 Here comes the sweet! Top with your BBQ sauce of choice (I prefer honey) and sprinkle with brown sugar.
I cooked them in our toaster oven (we don't have A/C and I like to avoid unnecessarily heating up the kitchen). Next time, I will use a broiler pan so the bacon grease drains and the bacon gets all around crispy! In the toaster oven, at 350, these took about 20 minutes to cook. In a regular oven I'm sure it will take more like 30 minutes. Just keep an eye on it and cook until the bacon is to your liking.
One fire attendee said, "Duda if you weren't already married, I'd say these are marriage material." I'll take it!
________________________________
Ingredients:
10 Organic jalapeños (makes 20)
1 package Nitrite/Nitrate free bacon (10-20 in a package, make sure to get enough or you can cut some in half)
8oz Cream cheese
1/4C Cheddar cheese (shredded)
1T Celery seed OR garlic powder
Honey BBQ Sauce
Brown Sugar
Instructions:
Cut jalapeños in half, lengthwise and remove pith and seeds (or keep some seeds if you like it hot)
Mix softened cream cheese with cheddar and celery seed/garlic powder
Stuff peppers
Wrap with bacon (cut in half or full length, up to you!)
Top with BBQ sauce & baste
Sprinkle with brown sugar (don't be shy!)
Bake for 15-25 minutes, depending your oven and bacon crispiness preference.